The starting position
As you all know, we at ARTI are dedicated to developing cutting-edge AI components for autonomous mobile robots and carrying out enthralling and innovative robotic projects with our partners.
We call our products AI Kits. They are assembled software components explicitly shaped for autonomous mobile robotics. They are generalizable, flexible, and easily adaptable to a wide range of applications. This means the same component can be used regardless of parameters such as vehicle type and size, propulsion and steering system, payload or speed. Moreover, the necessary adaptations can be done with minimal time and effort ("plug-and-play"). This approach opens an extensive range of applications and use cases because ARTI aims to make the AI Kits as generalisable as possible and developed without making over-simplified assumptions about the environment that lead to performance limitations during operation.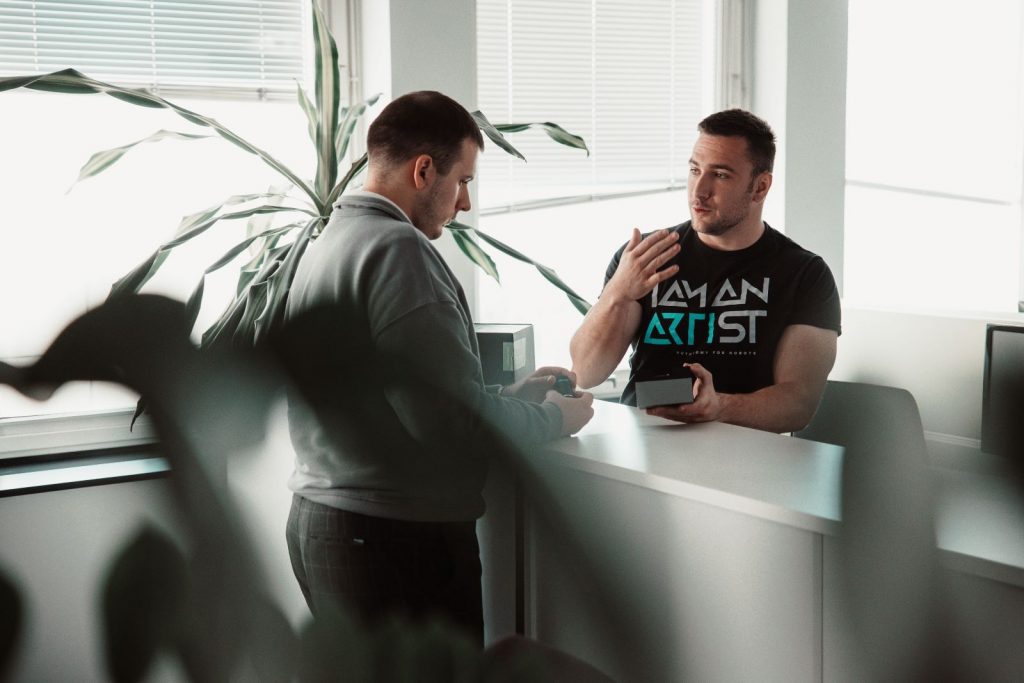 New ARTI robotic software licenses
From a business perspective, we distribute ARTI AI Kits through licenses. Now, there is big news in this domain! We recently extended our robotic software license model to allow our customers even better innovative collaboration. This way, we can guarantee our customers and partners to always provide them with technology and AI components beyond the current state of the art.
The new licensing model offers enormous advantages for our partners, such as:
Robotic AI technology is always beyond state-of-the-art
Excellent scalability
Greater flexibility
Clarity and transparency for both sides
Partners can choose between Single System Licenses and Product Line Licenses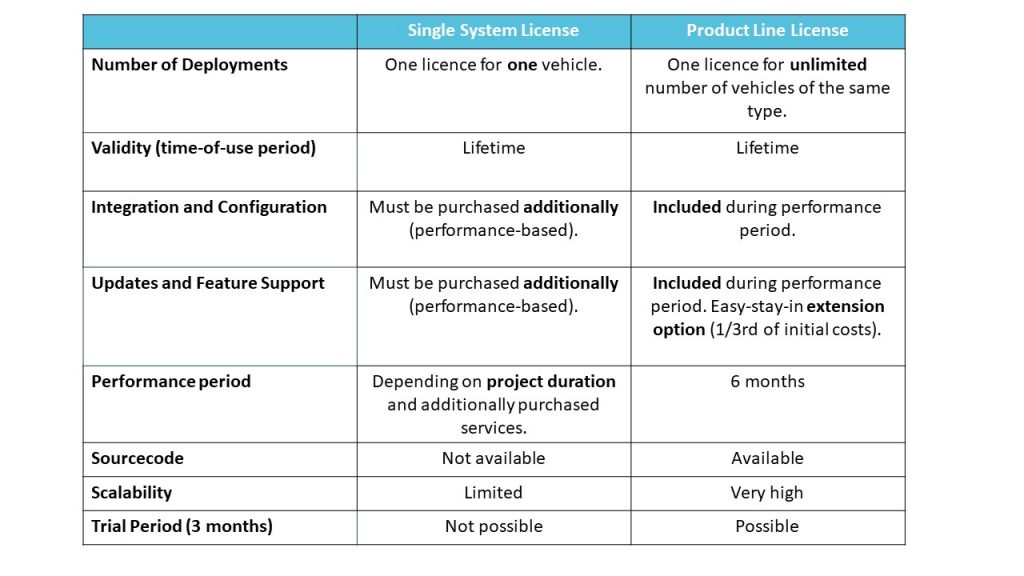 Single System Licenses
The Single System License is designed for smaller volumes, providing the flexibility to start with a smaller-scale operation and gradually expand as your business grows. With this license, one can easily manage the initial product offerings and gain valuable insights before committing to larger-scale production. This version of the ARTI AI Kits includes a single robotic software license for use on one vehicle. The license has no time limit and, therefore, can be used indefinitely by the customer but has little potential for scaling up. Additionally, services such as integration, support, and updates can be acquired during a running project.
What is it suitable for? The Single System License is ideally suited for Proof-of-Concept approaches, demonstrators, or companies with only a small number of vehicles/robots.
Product Line Licenses
Alternatively, the Product Line License offers complete comfort and comprehensive solutions if you're looking to maximize your market reach and streamline your operations. This robotic software license type empowers you to scale your product seamlessly across multiple lines, catering to diverse customer needs and effectively addressing market demands.
The license allows the customer to fully concentrate on their product by having a strong technology partner on their side taking care of the robotic algorithms.
This license form includes the high-quality ARTI AI Kits as well as support and updates for six months. It can be used for unlimited vehicles within one category (e.g. one type of robot). The included support services cover key areas such as integration, configuration, deployment, and testing. Additionally, experts are available for handling bug fixes and new features. During the defined time frame, the customer is entitled to all the latest updates and improvements of the ARTI components. After six months, the AI Kits can be used further without constraints. A subsequent Easy-Stay-In Extension of support for updates and features is available for one-third of the original price.
In addition, we have introduced the possibility of a three-month trial phase, as we believe that good cooperation only works if all parties are satisfied with the services. Of course, upgrading from a Single System License to a Product Line License is possible at a discounted rate.
Cost per Unit: Comparing the two robotic software license systems
The following chart gives an overview of the scalability of the two software license systems. It clearly shows the price advantages that the Product Line License brings with the growing size of the robotic fleet, notwithstanding higher initial costs. Operating with Single System Licenses does not lead to significant scaling effects.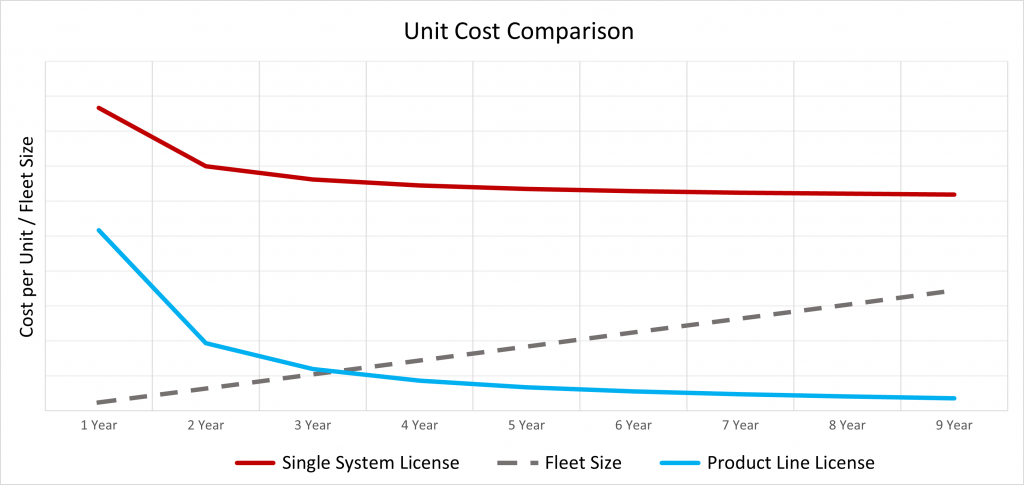 You like our approach and are already interested? Don't hesitate to contact us!