Fleet management is of central importance in mobile robotics, especially in intralogistics. It is a crucial system, since it not only controls the vehicle fleet, but also forms an interface to the warehouse management system as well as order placement, coordination and processing.
Our fleet management software perfectly complements our AI-Kits and offers an attractive overall solution for coordinating multiple robots with fleet management functionalities. Orders, positions and possible or selected routes are specified in great detail which results in improvement of overall management and control quality of the fleet.
We offer ready-made solutions for the application of mobile autonomous robotics in indoor as well as in outdoor areas, even in complex unstructured terrain.
Tasks: Overview and Managment of a Vehicle Fleet
Interface: VDA5050, REST, MQTT
Robots: Indoor and Outdoor Navigation Systems
Key Benefits

Level up your logistics
Reduced downtime and maintenance costs
Customizable settings for optimal performance
Integration with other systems for seamless workflow
Real-time visibility into operations
Improved safety and reduced risk of accidents
Increased efficiency and productivity
What's Included

Modules covered

Job Prioritising

VDA5050

Web Application

Dynamic Routing

Vehicle Maintenance

On-Premise Operation

Cargo Information

Rapid Setup

Order Management

Action Pipeline

Trajectory Layout

Analytics
Variants

Designed to meet your requirements
Our Partner

FleetEngine by ScaliRo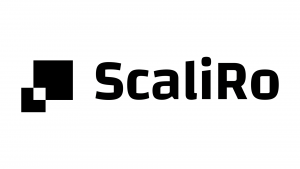 ScaliRo
By developing software which is capable of finding solutions for highly complex system processes, ScaliRo aims to revolutionize the intralogistics software market.
Led by many years of experience; they succeeded in funneling their enormous know-how into development of the ScaliRo FleetEngine, an innovative fleet management software solution, which enables autonomous robots to be used faster, more efficiently and cost-effectively in industrial processes.
GET A QUOTE
Interested?
Let's talk.